Topic: JD320 Airliner ver 3.2 r1,r2 WIN/MAC 64 bit (X-Plane 11)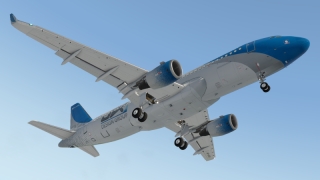 HOW TO INSTALL:
Please not mix files with other version.
Download link: http://jardesign.org/a320/download/inst … 20XP11.zip
- be sure, that you use X-Plane 11.00-11.01
- copy unziped "320_JARDesign" folder to ..\X-Plane 11\Aircraft\ folder
(be sure, what you are not use nonEnglish symbols in aircraft installation path)
- start X-Plane 64 bit and open a320, activation window is going to show up
- enter your serial key (Regcode), click NEXT and after a successful activation reopen aircraft via X-Plane menu
- activation works well with both MAC/WIN 64 bit
- please visit www.simliveries.com to get 130+ free liveries
UPDATE YOU NAV DATA WITH FRESH CYCLE (if need)
If you need update your cycle, please use Aerosoft/Navigraph
- "JARDesign a320/330 Native format"
and put new cycle to ../X-PLANE 11/Custom Data/GNS430/navdata/ folder (create this folder if need)
You may switch default/custom installed navdata via MCDU.
Default cycle (Aerosoft, old) always included to _navdata folder.
What new in this version:
+ improve stability
(more than changes in code, mostly for flightplan part)
r2
+ win.xpl sound plugin engine update at Sound3d folder
Thank you!!!!